We're super excited to share that the wait is finally over. Our game, Rise of Humanity is NOW AVAILABLE in Early Access with a 10% launch discount!
Lead your team of heroes against an AI that has taken control over the world in a dystopian future to save humankind! Collect, upgrade and merge cards to fight a horde of deadly robots in this combination of turn-based strategy and deck-building games. Use extraordinary weapons like the Exploding Bunny to blow up nasty mechanical puppies, sneaky drones and mighty Crushers!
When you start a new level, your heroes get mission goals assigned to them. Complete these in order to get to the next level to face new and dangerous enemies and recruit skilful heroes to your team!
Your playable characters will be given two possible battle goals they can choose from at the beginning of each mission. One of them will be easier, while the other will be more difficult, but more skill points as well. The skill points you earn for each hero will come in handy later on – exchange these for new skills in between missions to make your heroes more powerful!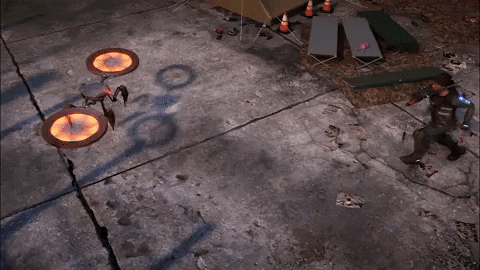 You can also build your deck by walking into the toolboxes hidden in each level. The newly acquired cards will be shuffled into your deck. Upgrade or merge them in the Hideout in between missions and they'll turn into even more forceful weapons in your heroes' hands.
Walk into blue hexes with hotzones to:
Charge your energy

Increase your health

Get more cards – but for a price…

Increase ranged attack damage

Reduce the energy cost of your cards.
Rise of Humanity will have two separate game modes:
Story mode, with a linear story campaign where you meet the characters one by one and discover new levels as you progress in the game.

Daily Challenge mode, where you can play three new, randomly created challenges every day.
These challenges will have three randomly selected heroes and locations, as well as different battle conditions that can make the challenge harder or easier to finish.
For example, if you're lucky, you can have your enemies start with lower health. If you're (very) unlucky, you will be playing the challenges with Acid Rain, which deals damage to your heroes in every turn.
Complete the Daily Challenge missions to earn points and a rank on our leaderboard that updates on a daily basis. The scores add up to a monthly rank so make sure to come back every day to improve your strategy and compete with other players! Score the most points to become the ultimate champion & Master of Decks!
We're extremely grateful to all the players who helped and supported us on our way to the Early Access release. We really appreciate your feedback and suggestions! Follow us on Social Media and Discord to learn about the new updates first-hand and chat with the community and developers!
We will be playing the Daily Challenges live every Wednesday on our Twitch. Join us in a tournament to beat our score and become the champion!
We hope you're just as excited as we are by now! Actually, there's more: Rise of Humanity will have a 10% discount during launch week (until 27 October 2021). Click the button below to get it now, and if you like it, make sure to leave us a review on Steam!